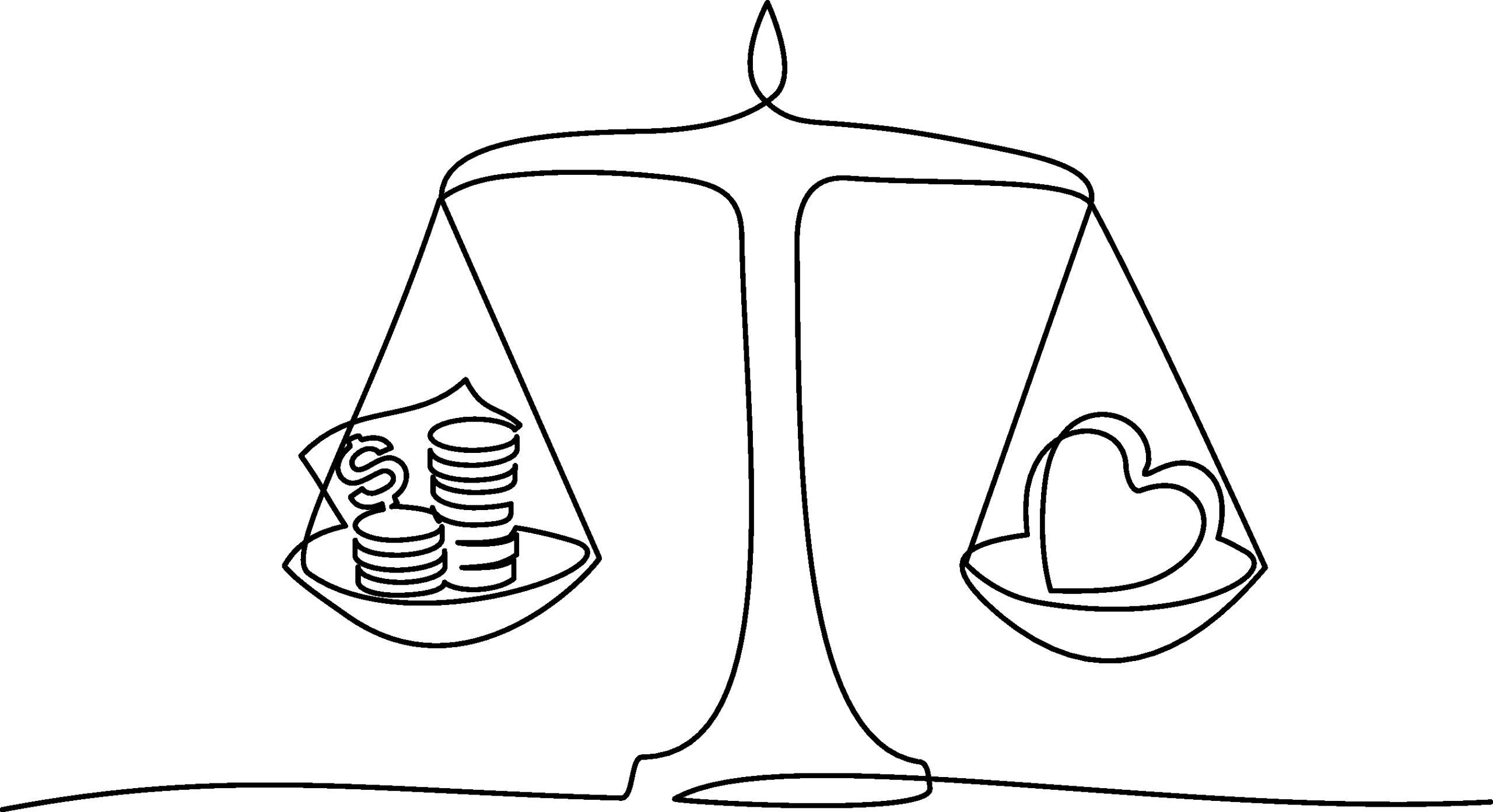 Fighting for respect
ethics
0
FUNDS MONITOR BIO-GENETIC ENGINEERING
0
FUNDS MONITOR TAX EVASION
0
FUNDS MONITOR ANIMAL RIGHTS
0
FUNDS EXCLUDE PREDATORY FINANCE
How can I take action?
What is at stake
The topic of ' ETHICS has many facets and is sometimes subjective.
It concerns the sensitive issue of Human Life both in terms of Bioethics related to scientific research, but also the relationship with procreation-abortion, contraception-and with the end of life (euthanasia).
Bioethics sets its sights on the limits to be placed on scientific research, whether for ethical, moral or prudential reasons, in order to keep research within a framework that respects laws, cultures and the precautionary principle.
The best known topic is bio-engineering, which has produced GMOs (Genetically Modified Organisms), i.e. the creation of new animal or plant species not present on our planet by crossing genomes belonging to different kingdoms. The rapid development of research raises important questions that are only partly covered by current legislation.
Bioengineering also introduces the issues of eugenics, species selection and animal cloning which, having become a reality, has naturally extended the debate to the human being: how far can medical research go? What are the limits on stem cells? Is it acceptable to implant organs from other animals in human beings? The list is very long.
Other ethical issues include tax evasion, predatory finance, animal rights and the prison business.
Visions of sustainability
With regard to bioethical issues, the debate is divided between two approaches:
An anthropocentric view that promotes research with few limits, arguing that nature is constantly creating new species and that it is legitimate for humans to do the same, by virtue of social needs, i.e. ensuring sufficient food production to sustain the growth of the world's population, and innovative medical solutions to prolong the human lifespan.
A prevailing view of sustainability recommends caution when introducing living modified organisms as these organisms are created outside the food chain and could be capable of exacerbating the imbalances in ecosystems, already made fragile by human activity and global warming.
There is also a debate about the conscious nature of the animal kingdom and the need to stop treating animals as objects and start giving them rights and consideration, for example by abolishing animal testing.
Management strategies
The topic of bioethics is mainly approached through two types of approach:
The normative approach related to the application by Society of international treaties and standards, in particular:
During the 2000 Rio Convention on Biodiversity, the Cartagena Protocol was signed, which defined Genetically Modified Organisms and reaffirmed the precautionary principle (biosafety) for human health and ecosystems. There are now 170 signatory countries and the text has been incorporated into the WTO's international trade protocols.
 The 1997 Oviedo Convention banned eugenics and human cloning and laid down the principles of living wills. Approved by Europe, however, it has not been followed internationally in a generalised manner.
The exclusionary approach is very diverse and is often used according to a belief, religion or philosophy, as well as the correct application of international treaties:
exclusion of States that do not apply the principles of the Cartagena Protocol;
exclusion of companies and states that carry out research on stem cells, human cloning and eugenics;
Exclusion of businesses related to abortion or contraception practices;
exclusion of companies that do not respect animal rights/do animal testing.
Results and observations
A minority of sustainable funds are interested in 'ethics :
41% of funds have implemented controls and exclusions on at least one of these issues
35% conduct audits related to tax evasion of investee companies ;
18% monitor issues related to genetic bioengineering-especially GMOs, eugenics, and human cloning
12% of funds analyzed are interested in animal advocacy
2% are interested in issues related to contraception and abortion
2% excludes Society involved in Predatory Finance.
Some of the best funds monitoring genetic bio-engineering:
| Sub_strategy | Area | class_type | Type | Classification | ISIN | Fund | Score | ESGAP | Intensity | Performance | Risk | Perf 6 months | Perf 1 year | Perf 3 years | instrument_id |
| --- | --- | --- | --- | --- | --- | --- | --- | --- | --- | --- | --- | --- | --- | --- | --- |
| Bioethics | Bio-engineering genetics | Open-end mutual funds | Equity | European equities | BE0948492260 | dpam invest b equities europe sustainable | 1 | 5 | 4 | 4 | 3 | -0,79 | -7,88 | 26,93 | 2.932 |
| Bioethics | Bio-engineering genetics | Open-end mutual funds | Balanced | Bilanciati Vol <5 | AT0000A105C5 | raiffeisen capital manag. sustainable diversified | 7 | 5 | 4 | 4 | 5 | -1,99 | -4,71 | 4,16 | 2.752 |
| Bioethics | Bio-engineering genetics | Open-end mutual funds | Flexible | Absolute Return Obbligazionario Vol <5 | LU0252132039 | candriam bonds total return | 3 | 5 | 3 | 4 | 4 | -1,02 | -2,23 | -0,73 | 17.321 |
| Bioethics | Bio-engineering genetics | Open-end mutual funds | Bond | Euro Bonds - Government | LU0145476148 | generali investments euro bonds | 1 | 5 | 4 | 5 | 1 | -3,76 | -11,13 | -7,27 | 14.005 |
| | | | | | | | | | | | | | | | |
Some of the best funds that monitor tax evasion :
| Sub_strategy | Area | class_type | Type | Classification | ISIN | Fund | Score | ESGAP | Intensity | Performance | Risk | Perf 6 months | Perf 1 year | Perf 3 years | instrument_id |
| --- | --- | --- | --- | --- | --- | --- | --- | --- | --- | --- | --- | --- | --- | --- | --- |
| Bioethics | Tax evasion | Open-end mutual funds | Equity | European equities | BE0948492260 | dpam invest b equities europe sustainable | 4 | 5 | 4 | 4 | 3 | -0,79 | -7,88 | 26,93 | 2.932 |
| Bioethics | Tax evasion | Open-end mutual funds | Balanced | Bilanciati Vol <5 | AT0000A105C5 | raiffeisen capital manag. sustainable diversified | 2 | 5 | 4 | 4 | 5 | -1,99 | -4,71 | 4,16 | 2.752 |
| Bioethics | Tax evasion | Open-end mutual funds | Flexible | Cap.Preservation | LU1814057326 | invesco global conservative | 2 | 4 | 3 | 5 | 1 | 0,20 | -10,23 | 17,11 | 64.891 |
| Bioethics | Tax evasion | Open-end mutual funds | Bond | Liquidity - USD | LU0128497707 | pictet short-term money market usd | 4 | 5 | 4 | 5 | 1 | 3,77 | 9,52 | 7,83 | 13.218 |
| | | | | | | | | | | | | | | | |
Some of the best animal-friendly funds:
| Sub_strategy | Area | class_type | Type | Classification | ISIN | Fund | Score | ESGAP | Intensity | Performance | Risk | Perf 6 months | Perf 1 year | Perf 3 years | instrument_id |
| --- | --- | --- | --- | --- | --- | --- | --- | --- | --- | --- | --- | --- | --- | --- | --- |
| Bioethics | Animal protection | Open-end mutual funds | Equity | European equities | BE0948492260 | dpam invest b equities europe sustainable | 2 | 5 | 4 | 4 | 3 | -0,79 | -7,88 | 26,93 | 2.932 |
| Bioethics | Animal protection | Open-end mutual funds | Balanced | Bilanciati Vol <5 | AT0000A105C5 | raiffeisen capital manag. sustainable diversified | 1 | 5 | 4 | 4 | 5 | -1,99 | -4,71 | 4,16 | 2.752 |
| Bioethics | Animal protection | Open-end mutual funds | Flexible | Cap.Preservation | LU1814057326 | invesco global conservative | 1 | 4 | 3 | 5 | 1 | 0,20 | -10,23 | 17,11 | 64.891 |
| Bioethics | Animal protection | Open-end mutual funds | Bond | Bonds Europe | LU1915690835 | nordea 1 european covered bond opportunities | 1 | 5 | 4 | 5 | 5 | -0,19 | 1,38 | 5,33 | 70.492 |
| | | | | | | | | | | | | | | | |
Some of the best funds that exclude predatory finance :
| Sub_strategy | Area | class_type | Type | Classification | ISIN | Fund | Score | ESGAP | Intensity | Performance | Risk | Perf 6 months | Perf 1 year | Perf 3 years | instrument_id |
| --- | --- | --- | --- | --- | --- | --- | --- | --- | --- | --- | --- | --- | --- | --- | --- |
| Bioethics | Predatory finance | Open-end mutual funds | Equity | European Equity - Mid Small Cap | LU1366712351 | dnca invest archer mid-cap europe | 1 | 5 | 4 | 4 | 3 | -3,34 | -11,37 | 31,85 | 51.561 |
| Bioethics | Predatory finance | Open-end mutual funds | Balanced | Bilanciati Vol <5 | AT0000A105C5 | raiffeisen capital manag. sustainable diversified | 1 | 5 | 4 | 4 | 5 | -1,99 | -4,71 | 4,16 | 2.752 |
| Bioethics | Predatory finance | Open-end mutual funds | Bond | Bonds Europe - High Yield | LU0242579596 | bluebay high yield bond | 1 | 5 | 4 | 4 | 3 | -2,03 | -7,99 | 0,06 | 16.963 |
| Bioethics | Predatory finance | Funds of funds | Flexible | Flexible Vol 5-7.5 | IT0005125064 | amundi best selection classic | 1 | 5 | 4 | 3 | 4 | -3,41 | -8,07 | -3,03 | 39.163 |
| | | | | | | | | | | | | | | | |